After the top of the sixth inning Tuesday, the Yankees were trailing Felix Hernandez and the Seattle Mariners 3-0. King Felix had thrown just 77 pitches and allowed just four hits and a walk through five dazzling innings. Meanwhile, C.C. Sabathia had just allowed two runs and was painfully laboring through the middle innings of the game.
FREEZE
At this point, the Yankee should lose this game. Hell, every MLB team should lose this game. Down three to Felix with Sabathia giving ground and just 12 outs to go? Fuggettabouttit.
An hour later, the Bombers were celebrating on the field, congratulating Mariano Rivera on his 16th save in 16 chances this season. They had held the M's scoreless in the final three innings and put up four runs of their own. Come September, no one will remember this game for anything more than a Yankee win and a Seattle loss, even though the Yanks win probability score fell to 12 percent after C.C. surrendered a two-run homer to ex-Bomber Raul Ibanez in the sixth.
So how exactly did the Yanks turn near-certain defeat into victory? By relying on the backbone of most big baseball comebacks: middle relief.
See, the dirty little secret of baseball comebacks is that they almost never hinge on the big names, the Canos and Riveras of the game. When a team is trailing by 3+ runs in the fifth inning or later, two facts inevitably emerge:
1. The team trailing has pulled its starter and is relying on bullpen pitchers other than its closer.
2. Allowing any more runs would be fatal to the team behind.
It's hard enough to overcome a multi-run deficit late as it is — throw in a bullpen that gives up an insurance run for every two you score and it becomes impossible. The biggest comeback I've ever seen came from 2011 Cleveland Indians, who were 12 runs down in the sixth inning before pulling off a miraculous victory. Down 14-2 after five innings, the Indians got six consecutive scoreless frames from four middle relievers, including a scoreless 12th by the infamous John Rocker, who picked up the win. Sure, we all remember Omar Vizquel's ninth-inning, two-out, two-strike, three-run triple that tied the game and nearly gave Jon Miller a heart attack. But without the middle relievers, Cleveland had no chance, offensive surge or no.
In my opinion, there's a psychological component to comebacks that relies heavily on middle relievers. If you believe your bullpen will hold the opposing team scoreless the rest of the way, you know that you only need X amount of runs (X=deficit+1) to win. But if you expect your pitchers to keep hemorrhaging runs, you won't have the spark any significant comeback needs to catch fire.
–
Last night, the Yankees were down 3-1 when C.C. exited with one out in the top of the seventh. On came Shawn Kelley, a former Seattle middle reliever who had a 6.14 ERA for the Yanks coming into last night's game. With runners on first and third and one out, the Mariners needed only a soft ground ball or 250-foot fly ball to re-take a three-run lead and blunt the Yanks' rally. Instead, Kelley got Kelly Shoppach to stare at strike three and retired Ibanez on a fly out to left. Inning over, and when Cano got the Yanks' only hit with RISP all night — a game-tying two-run double on a great piece of patient hitting — Kelley was suddenly the unsung hero.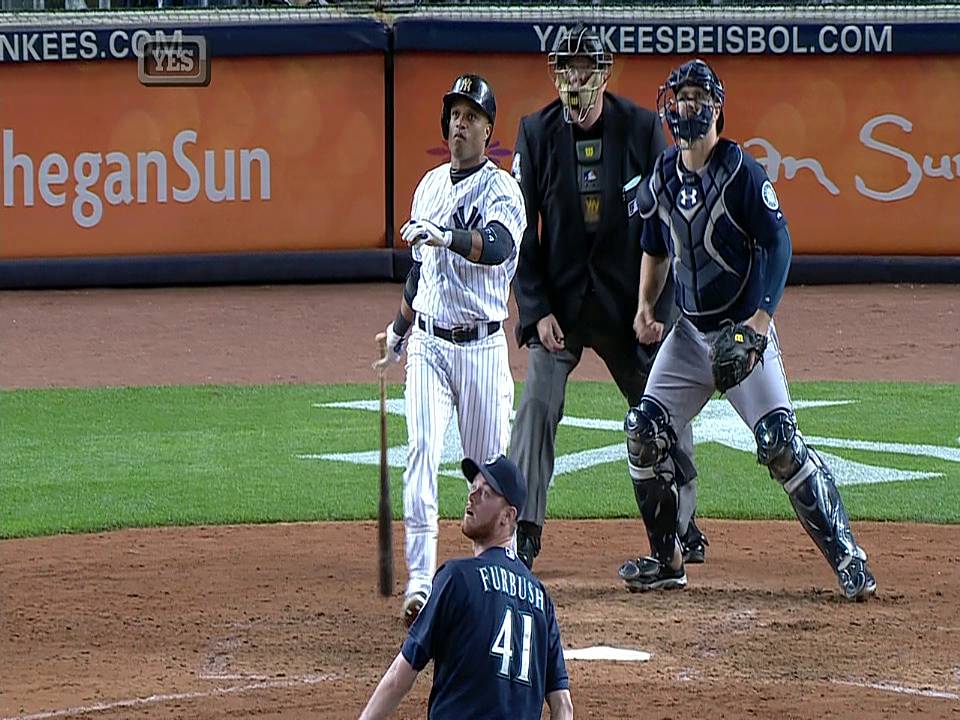 The rest of the comeback was pro forma. Lyle Overbay hit a go-ahead sacrifice fly, David Robertson pitched himself in and out of trouble in the eighth, and Mo worked a perfect ninth for the save and a 4-3 win. For his trouble, Kelley got the win and more than a few postgame claps on the back. But Kelley's role in last night's victory was more nuanced and important than a W on the stat sheet. He kept the Yankees in a position to come back. And that's as important as the comeback itself, because the latter couldn't happen without the former.