Caught the Yanks' 5-3 comeback win live from the Stadium last night, on a beautiful early spring evening that drew shockingly few fans to the ballpark. The announced crowd was 31,445 in attendance, but the actual number was probably south of 30,000. I don't know if it was the opponent (Blue Jays), the time (a Thursday night), or the lack of star power in the Yankee lineup, but it was stunning to see the Stadium that empty.
The few fans who did show up saw the latest preternatural hitting display from Robinson Cano. With the Yankees trailing 3-1 in the bottom of the third, Cano came up with two on and two out against Toronto starter Mark Buehrle. One of the Blue Jays' marquee offseason acquisitions, Buehrle is a crafty left-hander with 175 career wins, one perfect game and one absurdly good fielding play in 2010. But he wanted no part of Cano and quickly fell behind in the count, 3-1. With runners on first and second and Vernon Wells on deck, Buehrle had to find the plate with his 3-1 pitch, and Cano was waiting: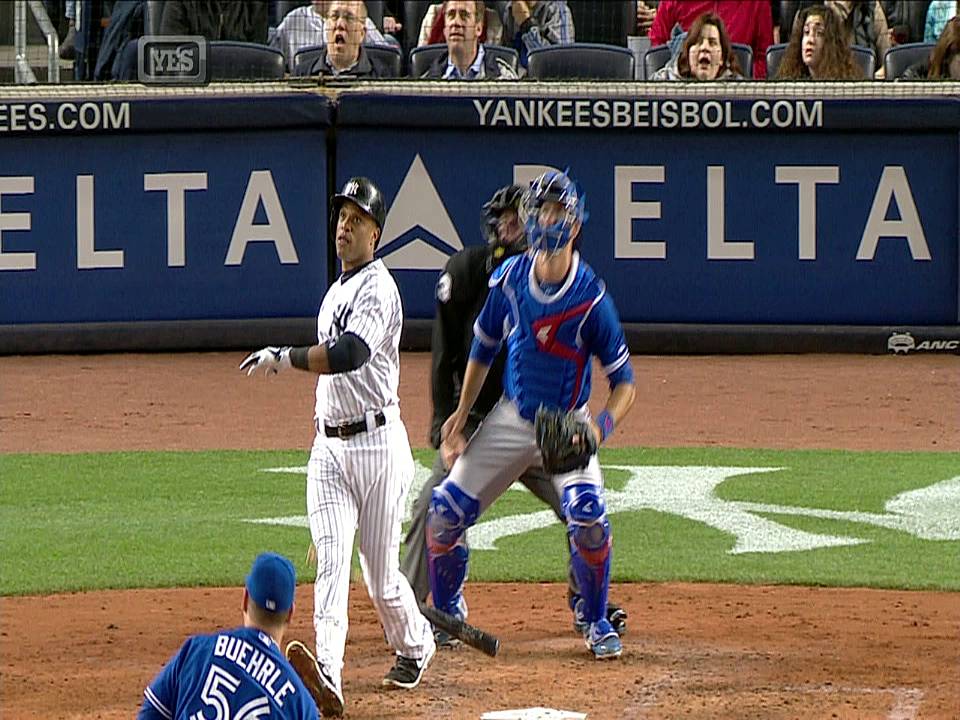 Buehrle tried to sneak a fastball past Cano on the inner half of the plate. Newsflash: You cannot sneak a fastball by Robinson Cano unless it's four inches off the outside corner. Cano possesses the quickest wrists I've ever seen for a Yankee, quicker than Alfonso Soriano. Sure, he can be undisciplined at the plate, and he has a tendency to roll his hands over on outside pitches and ground out weakly to the right side. But that's just nitpicking, which I can't help doing with Cano because of how athletically gifted he is.
Cano is the most athletic player I've ever seen on the Yankees, but more significantly, he's probably the most athletic second baseman in MLB history. Cano has a ballplayer's build: six feet tall, 215 lbs. The greatest second basemen were all either short (Joe Morgan, Roberto Alomar) or white (Rogers Hornsby) until now. As good as Alomar was in the field, he couldn't make a no-look throw across his body while traveling away from first base. Hardly anyone can. Cano probably does it 50 times a year.
Cano's closest historical peer is probably Rod Carew, a lanky lefty second baseman who batted .388 in 1977 and finished with 3,053 career hits. But Carew averaged 4.8 home runs per season; Cano has seven dingers already this season after blasting a career-high 33 in 2012.
Last night, Cano was the difference between winning and losing. Sure, Hiroki Kuroda gutted out six innings after being tagged early, and Mo got the job done in the ninth. But the best second baseman in Yankee history (yes, already) made the key play of the game with his sweet, sweet swing.