Bad loss. Bad Loss. BAD LOSS.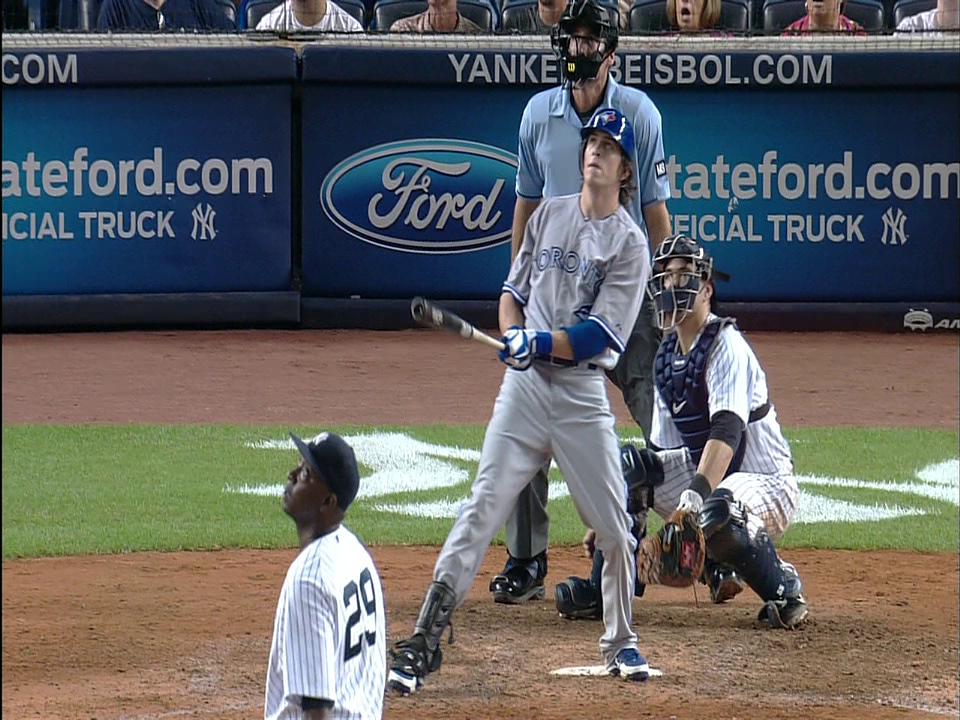 —
Exactly a month before last night's debacle of an 8-7, 11-inning loss to the lowly Blue Jays, I wrote the following about so-called Bad Losses:
The critical part of a Bad Loss is an abject failure of execution. Sometime it's an error at the worst time, sometimes it's a manager playing what appears to be Hungry Hungry Hippos with his bullpen moves. Either way, the loss can linger for days, weeks or even an entire season.
"Abject failure of execution" is a perfect way to describe what Rafael Soriano did against Rajai Davis and Colby Rasmus last night. With a man on and two outs in the ninth, Soriano got ahead of Davis 0-2. The Yankee Stadium crowd rose to its feet for a game-ending cheer, and the Yankees prepared to savor a hard-fought 6-4 win.
(Since I'm about to excoriate Soriano, I should point out that he has saved 33 of 36 chances since stepping in for Mariano Rivera. That said, his performance on and off the field last night was so atrocious that he deserves what's coming to him.)
At this point, Soriano had at least one and possibly two pitches to waste. His slider was not breaking well, and Davis had barely missed an 0-1 hanging slider, fouling it off. But Davis was champing at the bit to swing, and Soriano had only to put a pitch in the dirt, or at his ankles, and the game would be over. Before the 0-2 pitch, Russell Martin actually motioned toward the ground with his glove and then set the glove about six inches off the ground, the equivalent of a neon sign reminding Soriano to PUT IT IN THE DIRT.
Instead, the Yankee closer threw yet another hanging slider at the belt, and Davis slapped it through the hole into left field for a single. Missing that badly on an 0-2 pitch is inexcusable at any point in a game, but it can be deadly for a temperamental closer like Soriano**, who was clearly rattled as Rasmus came to the plate. Two pitches later, Rasmus crushed another hanging slider into the second deck in right field, and justlikethat it was 7-6 Toronto.
**Soriano left the clubhouse after the game without speaking to reporters, a move he pulled before with the Yankees early last season. I won't belabor this point because it's moot right now, but… would Mariano Rivera EVER blow off the press after blowing a game? This guy agrees with me.
The Yankees tied the game in the bottom of the ninth on a home run by Derek Jeter, who continues to party like it's 1999. But they couldn't push across another run, and a throwing error by Derek Lowe in the 11th set up an RBI groundout that gave the Blue Jays the win. Abject failure of execution, indeed.
—
After the sordid finish, we learned that Mark Teixeira suffered a Grade 1 left calf strain during the game and will miss 1-3 weeks. It's the same injury Jeter had last June, and he missed exactly three weeks. Nick Swisher has filled in adequately for Teixeira at first, and new pickup Steve Pearce can spot Swish at times. But the injury leaves a gaping hole in the Yankee lineup, which currently looks something like this:
1. Derek Jeter
2. Nick Swisher
3. Robinson Cano
4. Eric Chavez/Curtis Granderson
5. Granderson/Chavez
6. Andruw Jones
7. Jayson Nix/Casey McGehee (gulp)
8. Ichiro
9. Russell Martin
That's a terrible lineup once you get past the top five — only Ichiro has had any recent success among the guys in the bottom four spots. The Yanks will need all the pitching they can get to hold off the Rays and Orioles with Teix, A-Rod and Andy Pettitte injured. And they certainly can't afford another Bad Loss like Soriano's implosion last night.